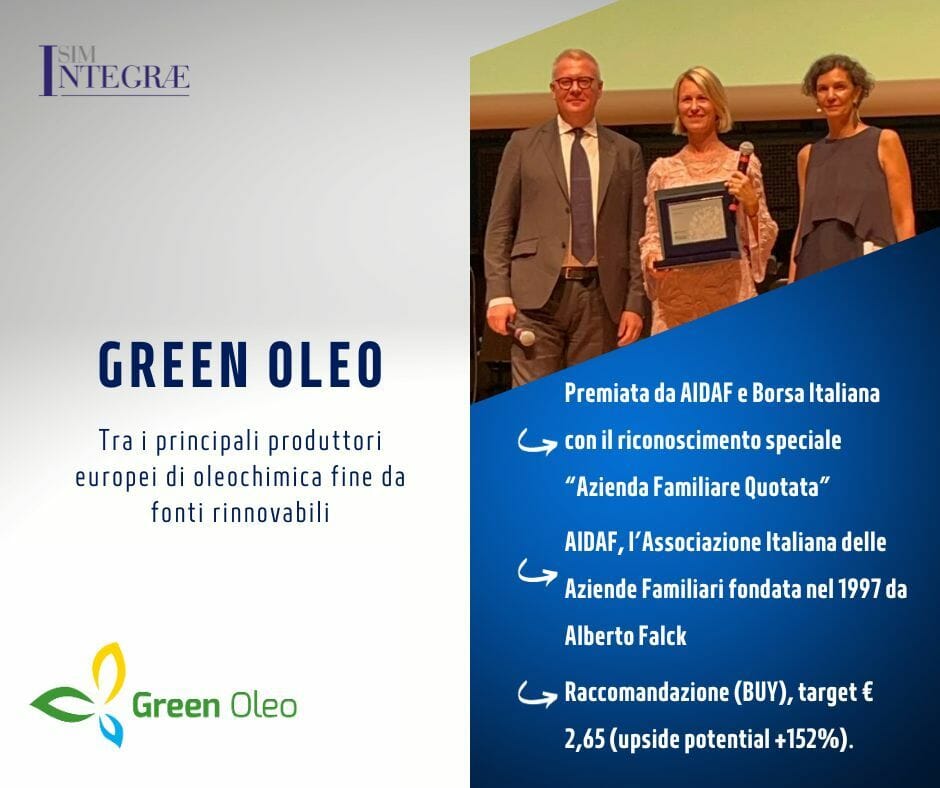 GREEN OLEO – Awarded by AIDAF and Borsa Italiana with the special 'Listed Family Company' award
Green Oleo, one of the leading European producers of fine oleochemicals from renewable sources, announces that as part of the National Conference of Family Businesses 2023, it received a special award from Borsa Italiana as a Listed Family Business.
The special award
AIDAF, the Italian Association of Family Businesses founded in 1997 by Alberto Falck, is a point of reference for family businesses and groups together more than 250 family businesses representing approximately 16% of Italian GDP.
The National Conference of Family Businesses 2023, being held in Florence from 5 to 7 October and entitled 'Enterprise, Art, Culture: Investing and Creating Value for the Company, the Family and the Community', aims to support the development and generational continuity of family businesses in Italy.
Borsa Italiana, a partner of the conference for the second year in a row, awarded in 2023 a special recognition to Green Oleo as a Listed Family Company, by virtue of its decision to be listed on the Stock Exchange, specifically Euronext Growth Milan to expand and take advantage of the opportunities offered by the capital market, adopting a sustainable approach to conduct its business and generate value.
Our opinion
Integrae SIM has a BUY recommendation on the stock, target € 2.65 (upside potential +157%).
To read the complete document of our research, including regulatory disclosures, click here.